Auto Keyboard
Automate repetitive keyboard entries using a single shortcut key combination. Auto Keyboard allows you to select the key down and key up to be automated, allows to configure number of automated keyboard entries and support most commonly used keys. Download Auto Keyboard Now and automate keyboard easily.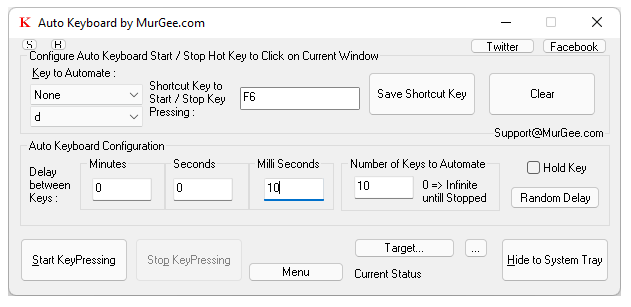 Automate Key Down & Key Up with Auto Keyboard
Easy and Simple Software application to automate key press and key release. Use Auto Keyboard Software Utility for Windows whenever you need to press and release keyboard keys such as Enter Key, Backspace key, Tab Key etc. The Auto Keyboard will automatically simulate the selected key press and key release on keyboard and will allow you to control the behavior of the Auto Keyboard Software Application. The controllers for Auto Keyboard allows you to configure the delay between multiple keyboard press and release events, allows you to control the number of keyboard entries to be simulated and even allows to keep on simulating the selected key on keyboard untill you stop it using a configurable shortcut key combination. The Auto Keyboard sits silently in the system tray as an icon and works on XP, Vista , Windows 7, Windows 8, Windows 8.1, etc.